Vacations are a thing again! We can't wait to share our favourite tips and tricks for getting the most out of your trip, while looking and feeling your best!
The Stylists at Frock Box
Yay! Vacations are happening again! Whether you're still sticking close to home or you are ready for that international flight, we have some super fun tips on how to get the most out of what you bring on vacation.
Our most important tip of all is to be prepared! Don't throw a bunch of your favourite pieces in your suitcase and hope for the best. Plan your outfits and try everything on! Take it one step further and take photos of yourself in each outfit. This will help you remember all the pieces to pack within that outfit, as well as see how it photographs so that your memories are ones you love! Take it one step further, and try to envision your suitcase as a mini capsule wardrobe. Coordinated pieces that can easily mix and match are the best to bring with you when you travel. Take the guesswork out of getting dressed and have more time for fun!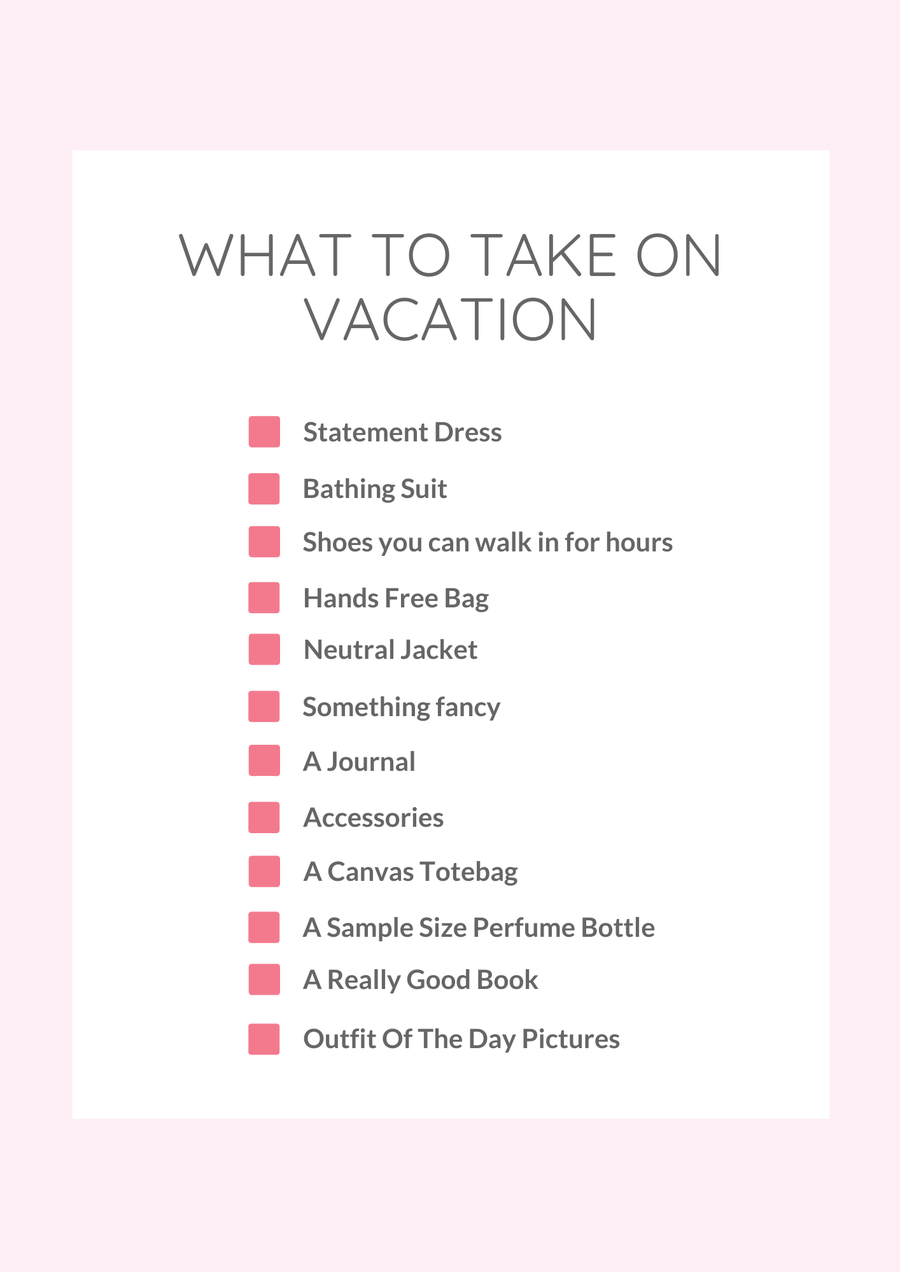 Bring a statement dress in a bold colour - think red or yellow! These types of clothing photograph so well and will make an otherwise basic photo totally pop!
The Stylists at Frock Box
We highly recommend bringing your bathing suit, no matter where your destination is! You don't want to miss out on an unexpected water experience because of poor planning. You never know when you might be close by to a natural hot spring, a hot tub or a pool that is just calling your name!
Comfort is key to having the most enjoyable time while on vacay! Shoes that you can walk for hours in will save your feet on long day trips. Pair your favourite sneakers with a dress and gain ultimate cool girl style! Try finding a hands free bag, like a backpack or belt bag that matches your style so that you can explore without having to hold on to a handbag. We also recommend bringing an extra canvas totebag for bringing back any treasures you pick up on your holiday!
Be sure to have a jacket at the ready for changing temperatures and AC filled buildings. We recommend packing one in a neutral shade, like a denim or moto jacket, to add that "third piece" styling to any of your outfits!
The Stylists at Frock Box
Don't forget to accessorize! Try packing all of your accessories in a way that makes sense with your outfits, so it's a no brainer to add them to your look. We highly recommend the Blingo jewelry cases for exactly this!
Another tip that we love is to remember the whole sensory experience of your trip. Stop by a fragrance counter or drug store and pick up a few sample sizes of various new-to-you perfumes and choose one to wear on your trip! Not only will you get a fresh new scent to try out, each time you smell that perfume you will be instantly transported back to your vacation and all the memories that trip will hold for you!
Don't forget the fancy! Even if you're going some place where you aren't expecting to dress up for, throw in a fancier outfit just in case. You never know where your adventures might take you, and you'd hate to be without that little black dress (or jumpsuit) when the occasion calls!
We also highly recommend bringing a journal for you to document your trip, your outfits and your experiences! This will be a treasured keepsake when you want to reminisce on your vacations, especially these days when it feels extra special to have the opportunity to travel. Also, be sure to scour the bookstore or your local library prior to your trip and pick up a new book to read while you're on a plane, long car ride or as a wind down activity before bed. Not only will you create memories of your own, the story will hold new meaning for you since you read it on holiday!
We are here to help! Be sure to let us know if you're planning a fun vacation soon, so that we can include outfits in your Frock Box for you to pack!
The Stylists at Frock Box