A topic that has come up a lot this year is the concept of being kind, and what that looks like to each person. It might be safe to say that these days, a lot of people feel drained, tired and a bit defeated. If that speaks to you, we just want you to know that we are with you in all of those feelings too!
While we're all in this together, sometimes it can feel like our sense of community is lacking, with our inability to connect in person and face to face. We challenged ourselves at Frock Box to think of some ways to spread joy to ourselves, our friends and families, and the small businesses that we love!
Since we are here for all things style and fashion, an important place to start with spreading positivity is to touch on one of our favourite subjects, body positivity! At Frock Box, we aim to empower all women through the outfits that we provide. For us, it's not just clothing. Each outfit can serve as an invitation to really see yourself and all of your worth. When Frock Box was created, it was important to create a size inclusive company that can serve every woman. It's our why, what empowers us as a company, and what makes us all get out of bed each morning with a pep in our step!
Our Stylists are ready and eager to work with you on defining your personal style, as well as making your wardrobe work for you, as you are. A lot of comments that we see in subscribers profile, are about struggles to dress a changed body, or not having the right pieces in their closet that fit them comfortably. When you feel like yourself and feel put together, this can translate into a lot of other areas in your life. It's like making your bed first thing in the morning, a mini accomplishment to set you up for success for the rest of your day!
One of the greatest pieces of feedback we can receive, is when someone steps out of their comfort zone and embraces how amazing they look and feel with a new silhouette, outfit or trend that we've sent to them! Sometimes we feel uninspired and overwhelmed with how to dress ourselves, especially if we aren't confident in our size or stature, and are unsure where to start. We can help you with that!
While having the right outfit can set the tone for self love, it obviously goes a lot deeper than that. Some amazing advocates for body positivity and empowerment that we love at Frock Box areThe Birds Papaya, Meredith Shaw and Lauren Chan. Check them out to get inspired!
Let's talk a little bit about how we can show positivity to our small business community. Of course, thinking about how we are spending money and where our dollar goes is important. Choosing to support companies that align with your values and needs is a great way to show support! But it doesn't always have to come down money.
Small, and free, ways to support companies that you love could mean sharing a post of theirs that resonated with you, or engaging with them through comments and DMs. Send an email to tell them that you appreciate what they do or the product that you've received. Tell your friends about them too! Social media has become such a key part to a company's branding story, and this is one of the main modes of connection for them to their customers.
Reviews also go a really long way! If there is an issue or an incident that doesn't leave you satisfied, try reaching out to the business owner first and give them a chance to respond and make it right before heading straight to social media. Our words have impact, both when we speak to ourselves and those around us. Let's choose to bring positivity to every aspect of our life, even to our troubles! So often, we only hear about the negative aspects, we sometimes forget to check in with someone and tell them how great they're doing! Let's bring the love level way up!
Often times when we receive positive feedback from a subscriber, not only do we do a literal happy dance (really!), we also usually share it with our whole team. Positivity breeds positivity! We all get so thrilled and happy to hear about how an outfit totally inspired you, or that you absolutely loved what your Stylist sent in your last Frock Box. It truly makes our day!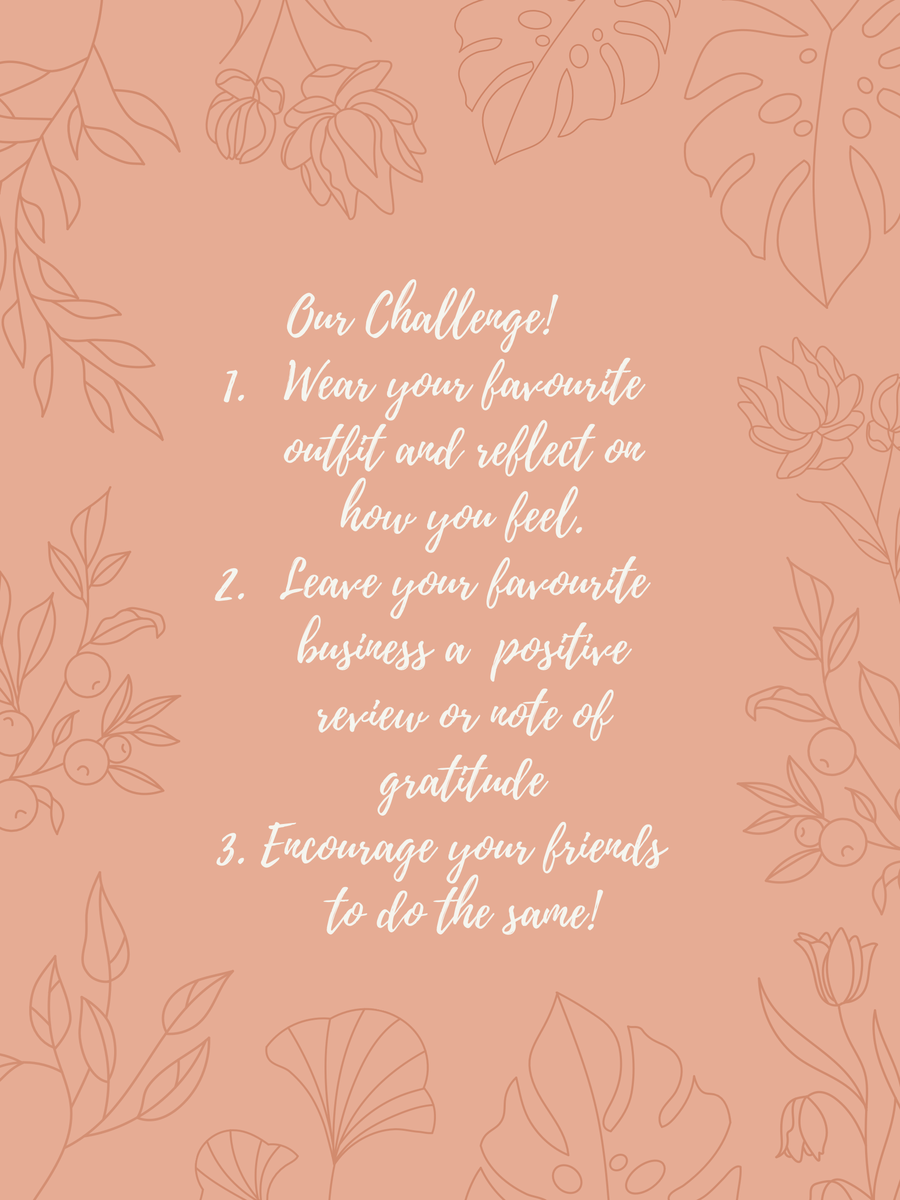 Let's see how many peoples days we can brighten, attitudes we can turn around, and magic that can happen when we are kind. Be sure to follow along on both Instagram and Facebook, and share how you're embracing this challenge!